Contacting Us
Your concerns are important to us. To submit questions or comments simply fill out and submit the form below or feel free to contact us directly. Thank you for helping us serve you better.




When you are contacting us it is assumed you are 18 years of old or older.






IMPORTANT:


We have over 12 e-books on developing and making your own go kart. The most prominent questions are those pertaining to drive line calculations. Go Kart Building 201, 202 and 203 are in depth books complete with charts and computer programs. Please avail yourself of these products to answer your drive line questions.

Also be sure to look at our Go Kart Guru Blog which also has many articles about go kart design and fabrication.




Another Important Note:

A few have been leaving questions but incorrect emails. Please double check your email address, because responses are typically in one day or less.
You Can Use The Following Form To Contact Us

(* Indicates a required field)



Great Birthday Present: The Father and Son Wood Go Kart Project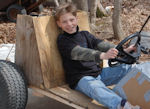 Great Gift Idea For Any Occasion: The Model Go Kart From the Movie "God Bless the Broken Road"