Product Downloads
This is the free product download page.

Feel free to download the below products and use them as you wish.
The standard Copyright rules apply and the Go Kart Guru assumes you are of 18 years of age or accompanied by an adult in use of these products.

Take advantage of these great products and lets get that go kart project going.

Regards

Go Kart Guru

Product Downloads
Click on the links below for your downloads. Download all if you wish!
| | |
| --- | --- |
| Go Kart Building Schedule Spreadsheet | Download Schedule Spreadsheet |
| Go Kart Center of Gravity Spread Sheet | |
| 10 Questions Go Karters Need to Ask Themselves Prior To Building, Buying or Designing A Go Kart | |
| Go Kart Performance Spread Sheet | |
| Go Kart Bill of Material Sheet | |

Great Birthday Present: The Father and Son Wood Go Kart Project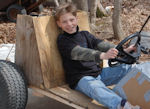 Great Gift Idea For Any Occasion: The Model Go Kart From the Movie "God Bless the Broken Road"