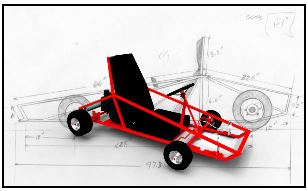 The Phi Alpha 9 is a fantastic all around DIY go kart! It has tons of great features that make this one of the coolest, most durable, lowest maintenance and safest go karts available as a do it yourself plan.
Low Center of Gravity

50/50 Weight Distribution

Chain Tensioner Standard

Disc Brake System Standard

Wide Variety of Engine Sizes

Vertical Engine Drive System Available

Standard Roll Cage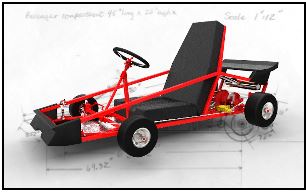 The Phi Alpha 10 has a long history as a go kart design. It was considered by Popular Mechanics and ranked as #1 out of many internet plan contestants. It has proven to be one of our more popular designs in metal frame go karts. Having been designed using Finite Element Analysis, it is strong and durable not to mention low maintenance. The plans are extremely easy to follow with detailed prints. If you have a welder, a metal saw and few hours of time you can have this head turner built in no time.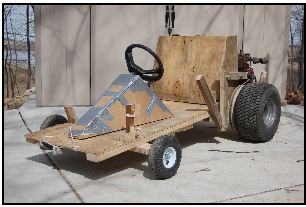 Phi alpha 12 is what is know as our wood go kart. This is the basic wood go kart with bogie (or wagon style steering). The wood go kart is amazingly tough and easy to build. The Phi-Alpha 12 was developed as a go kart that anyone with wood working skill can make in a weekend. The best way to tackle the Phi-Alpha 12 is to get the video, read the book and put it together. Complete with step by step plans.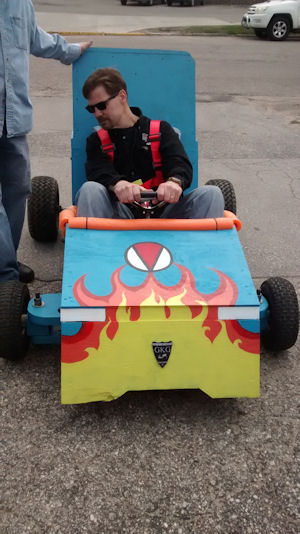 Phi Alpha 15 is our newest wood go kart to the line up. It is a higher end go kart with live axle, disc brake and Aackerman steering. This go kart will give any metal frame go kart a run for its money.

This particular go kart is going to be featured in "God Bless the Broken Road", slated to come out later this year.

Again, easy to read plans, and simple to work on design, this go kart is for those who prefer wood over metal fabrication.