Go Kart Guru Ezine
The Go Kart Guru Ezine is an excellent resource, chocked full of go kart tech tips. By signing up you are eligible for monthly drawings that have big prizes. Sign up today!

Additionally, when you sign up you are eligible for the product updates as they occur.
Simply fill in your name and a valid email address and you will receive the news letter with all the technical tips and fabrication aids that will greatly help in your quest for a go kart.

Also, by signing up you get a free product download. (Some products are not even in the purchase products at all.) Be sure to sign up today!
Go Kart Guru News Letter Sign Up

Great Birthday Present: The Father and Son Wood Go Kart Project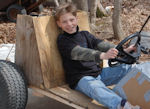 Great Gift Idea For Any Occasion: The Model Go Kart From the Movie "God Bless the Broken Road"