Where Can I Ride My Go Kart?
I can empathize with you. I was frustrated beyond belief when I was kid because of the limitations to where I could ride my go kart.

I was constantly taking it places to ride it.

Go Karts are similar to other type hobbies like model airplanes. You cannot just fly a model airplane any place you choose.

First of all it can be very difficult to fly in crowded spaces and secondly the prospect of actually hitting something or someone is really high. So clubs have been put together where they rent fields and you can fly your airplane there.

The similarity goes with go karts. You cannot ride your go kart on the side walk or on the street for that matter because it is dangerous. People walking to get their mail could be side swiped and hurt pretty badly.

Go karts can be driven on your private property with no hassle, however, if you enter onto public property or even a parking lot which is privately held, you will be in big trouble.

As my first book in the series discusses, before you even consider having a gokart you need to have it planned out where you are going to drive it.

I actually did plan out where I was going to ride my go kart, and that was in my driveway. I have a long (almost 1/4) driveway that I can ride my go kart. So you may have to get creative and find some friends who have some property and will let you ride that cart to your hearts desire.

You may also want to look into trails and find out if there is a trail in your area that allows go karts. There are numerous trails about that allow 4 Wheelers, you may want to see if they allow go karts too.

I have included the Go Kart Building 101 for you too look at and I hope that you find that riding area!

Regards

The Go Kart Guru

Great Birthday Present: The Father and Son Wood Go Kart Project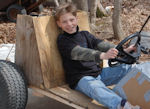 Great Gift Idea For Any Occasion: The Model Go Kart From the Movie "God Bless the Broken Road"