Model T Style Go Karts
This is a meager start. I will have more on Model T Style Go Karts coming in the future. But be sure to check out this fine piece of machinery!

Great Birthday Present: The Father and Son Wood Go Kart Project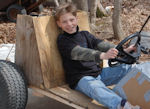 Great Gift Idea For Any Occasion: The Model Go Kart From the Movie "God Bless the Broken Road"