Steam Go Karts
You know I thought there would be more on Steam Go Karts, but I was really disappointed. There isn't a lot. I love steam engines. I have a model steam engine in the basement, and I even dabbled in making my own steam engine powered go kart when I was younger.

I took my old blown engine and converted it to a two cycle engine. The idea was that I would put a valving system in the spark plug hole and have an steam engine to work with. But I never advanced beyond the engine. The prototype was going to use compressed air. Maybe my kids and I will take this one on.

Any help with boiler technology and Stanely Steamers would be appreciated. You will be duly rewarded!

I will keep looking. Let me know what you find out there!

Great Birthday Present: The Father and Son Wood Go Kart Project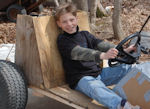 Great Gift Idea For Any Occasion: The Model Go Kart From the Movie "God Bless the Broken Road"