For many people a welder and steel tubing is not readily available, but wood is. This manual shows how you can put together a go kart for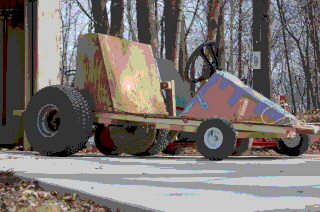 at least $20 to $50 no problem.

There are two books in this series: The Wood Go Kart and the Gas Engined Wood Go Kart.
In this book we show you what is involved to make a wood go kart. This includes frame layout, steering layout, brake setup and seat layout, along with other miscellaneous information.
The second book shows how to set up the drive system so that a gas engine can be mounted to the go kart. This includes engine layout, pulley sizes, belt tensioner system, throttle linkage.
The information given, however, in this book is more than sufficient for you to get building that wood go kart today.