First, if you are considering the 8 inch kit, determine if you rear bearing flange is 4 inches wide.  If so, this is the brake system you need.  Another indicator is that the go kart has two bolt flange bearings for the rear axle.
If you want more information about the brake systems please visit the Brake Systems Identification Page.
The brake system consists of the following: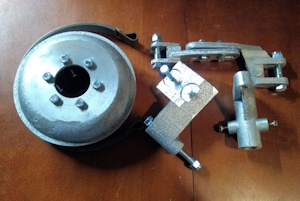 8 inch drum
Brake Band
Intermediate Link
Adjustable Link
Crank
Boss
Mounting Hardware
The brake system is a bolt on unit, and requires that two holes be drilled to mount the Boss to the rear bearing bracket.  Whole installation should take  one hour.
To purchase click the purchase now button below.