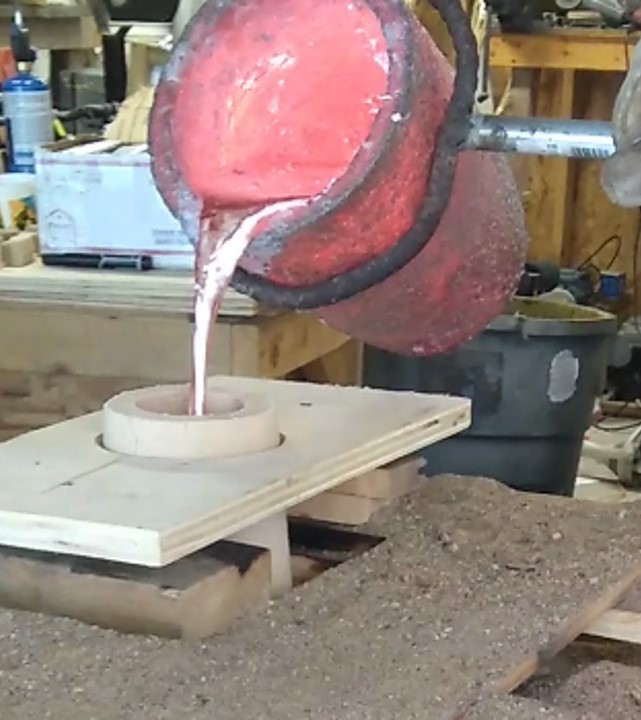 A couple of years ago we were inundated with requests for aluminum wheels as they are by far the most superior wheel available for Model T Go-Karts.  The old red plastic wheels just don't hold up over time and as a result crack and eventually fail.
As you probably have figured out, you can not get parts for these go karts anywhere, unless you scavenge an old go kart.  The list goes on, from steering wheels, seat covers, frame, fenders, lights, light bars, hubs and wheels.  There are also a host of other parts that are just not available at all, as they wear out, like steering gears.
We were hesitant at first to get into supplying replacement parts as the up front investment in tooling is pretty high.  But, we did it none the less.  We figured out on our own how to make quality castings.  We even bought a huge supersack of foundry sand just to help fill the needs as they came up.
We just recently handed over our wheel castings to a foundry and they have done a phenomenal job on using our tooling and providing us with quality finished castings.
That being said, we still do in house castings using the high quality automotive grade aluminum as we have always used.  Our sand, compared to the foundry sand is not as fine.  We use a grid size of 60 to 70 where as the foundry uses 120.  As a result the castings for the in house parts will be a little rougher, especially on the areas that we cannot reach with a grinder.
Some people have mentioned for example that the steering wheel was undersized and a little rough looking.  As we state in our steering wheel ad, it is a replacement for the ORIGINAL steering wheel from the 1950's and 60's.  The diameter of the steering wheel must have changed in the 70's when the McDonhough company was bought out.
The newer units have an inch and a half larger steering wheel diameter than the original steering wheels.  We will eventually put patterns together for the larger steering wheels, but at this point we just have the most original steering wheels with strengthening bars underneath.  They will fit on newer units, but are just more authentic as they are smaller.  The rough state the customer was commenting on, is the sand type that we use, which is the 60 sieve size, which is what is used commonly in foundries across the country.  The roughness, can be knocked off with a hand grinder and can be primed and painted to look very authentic.  See the pictures below for an example of finish provided.
Our pricing reflects a fair price for what you are getting. We choose carefully the products to be made at the foundry, and those that we will manufacture ourselves. Our goal is to get you the best price, along with a timely order.
Timeliness:  We try to process orders as quickly as possible. We do not stock all items, as that would be cost prohibitive, so your order maybe made custom as it comes in. Please understand this method of manufacturing saves you money and allows us to offer more products to help you out. Typically an order takes around 1 to 2 weeks to process as it involves casting and machining.
We do stock some items, like wheels, rear hubs and front hubs. So typically an order for those should be to your doorstep in a week. To be sure, inquire ahead of your order to see if we have stock for your potential order.
Please understand that we are a small business and we do our best to help you out with your needs.  So don't hesitate to fill out the contact form and leave a phone number and email. We typically will get back to you the same day.
Thank you for visiting our site and be sure to ask any questions that you have, we will see what we can do for you.
Regards
GoKartGuru.com