Add Some Real Class To Your Go Kart by Bolting on This Go Kart Spoiler!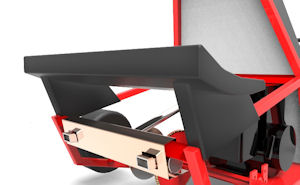 We don't just have a cool go kart frame, we have cool accessories as well.  This spoiler kit is just the ticket to spicing up the already cool Phi-Alpha-10  Go Kart.
This spoiler is made of high impact polyethylene plastic that will last for years and years.  It also has U-V inhibitors so it will not fade or crack in the sun.
The shape is optimized for the best possible look on the Phi-Alpha-10.  It also has a simple bolt on attachment that takes minutes to mount.  Basically the unit is slipped over the rear bars on the Phi-Alpha-10 frame.
Bolt holes are drilled into the frame.  The bolts are slipped in, nuts attached, snugged it up with a wrench and you are ready to rock with the ultra-spoiler kit!
There are currently two colors available, black and red.  If you would like your own custom color please contact us and we can color match it for you.  (Color matching adds an additional $10 to the spoiler price.)
The introductory price for the rear spoiler is $45 plus shipping and handling.  Again, and extra surcharge of $10 will be added to custom colors.
Limited Warranty
There is a limited warranty on the Spoilers.  If the spoiler is mounted, and holes are drilled into it, the warranty is void.  If you decided you do not like the spoiler, right out of the box,(without installing it) you have 30 days from your purchase date to return the air dam for a full refund.  A 25% restocking fee will be attached for any returned spoilers.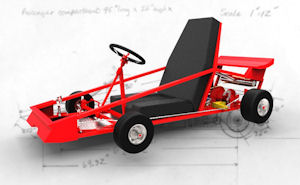 I am really interested in this product please put me on the waiting list! Complete the following survey to sign up for the Spoiler Discount.
If you are interested please notify us on the contact page.