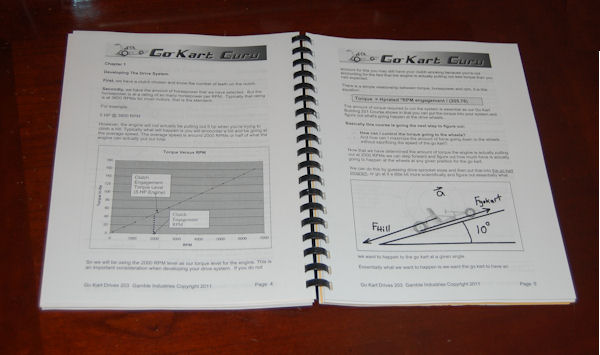 So many people are looking to make a go-kart by themselves and save money. They also are looking for competent answers that they can actually build with. This book is just that, a compilation of technical answers, calculations, suppliers, "How-To" tips and so much more.
When I put this Mega Bundle book together I wanted to be able to help people start from scratch and build their own gokart, one that they would be proud of.  Either a nice sturdy wood go kart, or head turning steel frame
Additionally, many of you have been asking for a printed version of the Go Kart Building Bundle, and it is finally here. In professional form the Bundle is completely printed and includes all the books plus the plans all in one large book.
The book covers all the information that you need to make your own go kart. It basically is all the e-books printed up and bound in one large book. Which includes the following:
This book will show you how to: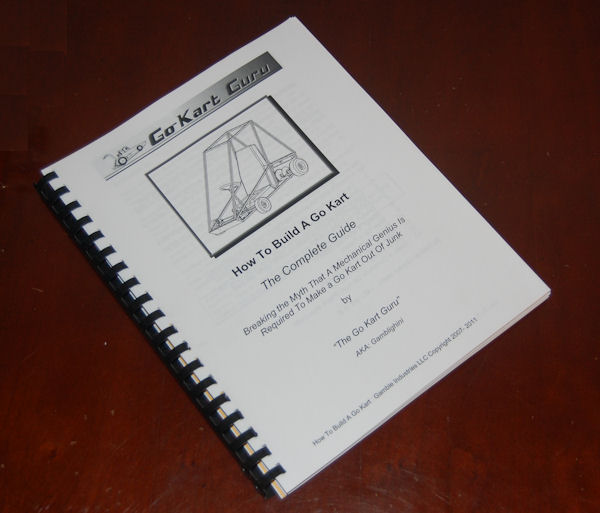 1. Design a Go Kart
2. Calculate or Measure the Center of Gravity Introduction
3. Design the Frame Not To Break (Stress Calculations)
4. Drive Train Calculations (Too Much or Too Little Power?)
5. Use a Lawn Mower Engine To Power Your Go Kart
6. Design a Brake System
7. Design a Throttle (Gas Pedal System)
8. Design a Steering System
9. Weld Up a Frame
10. Make Comfortable Seat
11. Make A Cool Exhaust System
12. Super Charge Your Engine
13. Make a Complete Go Kart (2 sets of Go Kart Plans Included!)
Here are the books printed out in one large 300 plus page volume:
Go Kart Building 101- Where Do I Start?

One of the biggest pitfalls people fall into is not considering the 10 Thing about gokarts prior to building, or even buying a go kart. These 10 things will make this project either worth while, or a waste of time!

Go Kart Building 102- How To Build a Go Kart for Under $200

How do you get all that stuff together and only spend $200? Go Kart Building 102 shows you how to do it, and where to buy it!

Go Kart Building 201- Go Kart Drive Systems Layout and Design Calculations

You may get that go kart put together, but don't have a clue as to how to connect the engine up and get it to not burn up a clutch or belt. Go Kart Building 201 shows you how to layout your drive system, what ideal ratios you should be using and what clutch system best suites your cart.

Go Kart Building 202- Vertical LawnMower Engine Drive Systems

Lawn Mower Go Kart

Everyone has an old rider lawn mower sitting around, but because the engine is vertical, they don't have a clue as to how to make it work on a gokart. This is by far the best selling product that the Go Kart Guru has, because NOBODY shows you how to do it right, accept the Go Kart Guru!

Go Kart Building 203 – How To Get My Go Kart To Climb Hills Without Busting My Budge

Clutches smoking are the biggest headache that most go karters have. This course breaks the hill barrier and uses a whole arsenal of graphs and programs to get the job done. By far the most extensive work on drive systems so far!

Go Kart Building 301- Go Kart Frame Design and Stress Calculations

The Go Kart Frame design is so critical to go kart handling and performance. It is not just slapping together a couple of tubes and angles and "walla" a go kart. It is a little bit more involved than that. This course shows you how to design the frame on your go kart so it will corner like a porche. It even shows you how to do stress calculations so that the frame does not fall apart!

Go Kart Building 302- Go Kart Throttle and Brake Systems

Throttle and Brakes systems usually are the last things to be addressed in go kart designs and that is not a good thing. Sticking throttles, and poor brake systems are the last thing you want to deal with. This book shows you how to put together simple though easy to work-on throttle, and brake systems.

Go Kart Building 401- Go Kart Frame Fabrication, Fixturing, Welding, Tools

The actual making of a go kart does take some tricks. This book covers 5 major areas and that are very important for frame fabrication. It shows you how to make a go kart frame, how to use the tools (special tricks for repeatable reliable frame fab), Pitfalls in designs, how to get past them: which include drive line, steering and frame strength.

Go Kart Building 402 – Go Kart Steering Layout and Design

Steering Systems are usually cobbled together. Not a whole bunch of thought is put into them, and so the go kart just doesn't corner, it goes strait. This book shows how to optimize your steering system.

Go Kart Building 501 – Go Kart Seating Design and Fabrication

Seats are usually the last thing thought about on the go kart. Make shift seats are cobbled together. This e-book shows how to make your own go kart seat, one that will be very comfortable, but not cost an arm and a leg.
Bonus Products
2 Sets of Go Kart Plans

Phi Alpha 9
Phi Alpha 10

Why spend all your time working on a frame design, when a head turning go kart is all designed up for you? The Go Kart Frame Plans shows how to build the frame down to the last detail. It even shows you how to make a dual exhaust like the one shown on the video!

SuperCharged Go Kart

The second bonus product is the superchargers manual. Every one wants more power. This shows how to hook up a supercharger and the secrets to actually having a system work!
Again, this is a fully printed version of the Go Kart Building Bundle. It comes in One Large Volume and includes the Go Kart Plans and the Charts that come with the Go Kart Building 203 book (the one that shows you how to make a smoke proof drive line.)
And That is Not ALL… There is The Wood Go Kart Book and Wood Go Kart Video Too!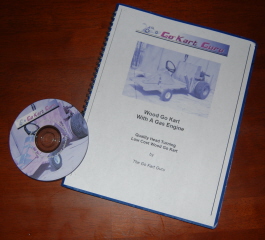 One of the biggest conundrums for go karts projects is the direction to go. There are all sorts of ideas on how to put stuff together, but not all of them work. The Go Kart Guru has been through the ringer when it comes to Go Karts. He has built over 15 of them, each having its own set of quirks.
This Wood Go Kart Building Bundle Plus Video package is the perfect starter "Hands On How To Build a Go Kart Kit." It introduces you to all the elements of go karting, without the high cost. Lest you think that the wood go kart is some slouch of a go kart, it is not. In fact it gives our standard Phi-Alpha-10 a run for its money, if not out performing it in some areas.
Don't think that just because this is a wood go kart that it is a piece of junk it is not! If you are looking for a great father and son project (or father and daughter project!) this is the one for you.
Basic materials are needed, such as two by fours, a sheet of plywood, some old tractor tires, an engine from some retired piece of machinery and you are well on your way to building this go kart.
Again, this go kart has all the elements of a standard go kart:
– Steering Wheel Style Steering
Brake Pedal Style Brakes
Foot Pedal Accelerator
Center of Gravity Located for optimum cornering performance
On-Off Switch
And more
This package shows you how build a wood go kart step by step. The books follow the video format, so you can read the books while you watch the video. There are additional books that cover some of the questions that most have on drive systems. And as always, the Go Kart Guru is resource for any trouble shooting that you have on developing this go kart.
We are constantly upgrading our Blog page, and writing more books, so be sure to keep in touch with the Go Kart Guru by signing up for the free NewsLetter, which will get you the latest and greatest info and news on how to build a go kart every week.
And finally, the wood go kart project is one you can do in your basement during the winter months. Again, if you have wood tools, you are pretty much set.
The Wood Go Kart Bundle Plus Video package is compilation of the wood go karts books, the drive systems book, and the the go kart plans.
This package is ideal for the shop teacher, or the parent who wants to use the product as a great homeschool project, father and son project or class project.
The total package includes the following:
The Wood Go Kart Book I
The Wood Go Kart Book II
The Wood Go Kart Prints
How To Build a Wood Go Kart Video
Take a sneek peak:
---
The Wood Go Kart Book I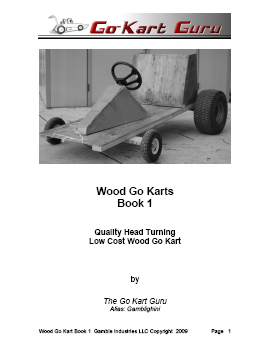 As a young boy my aspirations to operate an object that could propel me around was just intoxicating. I started riding my bike at 5 years old. Changed my first tire at 6 years old. Made my first go kart out of wood at age 10. Made my first motorized wood go kart at 14. I had that constant thirst for motion, the go kart was the platform.
A wood go kart is very cost effective and can be made in an afternoon.
In these manuals we show three different wood go karts that have been made from basic materials ranging from two by fours, plywood, bolts, rope, angle iron, steel rod, and left over garden tractor tires.
The go karts start out as gravity powered, but can be easily upgraded to gasoline powered.
The Wood Go Kart Book II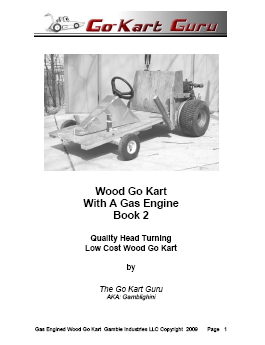 For many people a welder and steel tubing is not readily available, but wood is. These manual show how you can put together a go kart for at least $20 to $50 no problem.
There are two books in this series: The Wood Go Kart and the Gas Engined Wood Go Kart.
In the first book we show you what is involved to make a wood go kart. This includes frame layout, steering layout, brake setup and seat layout, along with other miscellaneous information.
The second book shows how to set up the drive system so that a gas engine can be mounted to the go kart. This includes engine layout, pulley sizes, belt tensioner system, throttle linkage.
These books come in full printed form and bound in presentation format. There are over a total (including the Go Kart Building Bundle) 400 pages worth of material along with the Wood Go Kart Plans all bound in a professional style wire binder.
The Video is a full hour of "How To Steps" for building the wood go kart and gives you inside tips on how to avoid lots of wasted time and aggravation. The video is a step by step view of the Go Kart Guru working together with his kids to put together a gas power (petrol powered) wood gokart. Believe it or not it was built, in just two weekends. The first weekend they put together the gravity version (Book I) and then on the second weekend they put together the gas engined version (Book II).
– If you are interested in putting together a fun project that will build memories that will last a life time, this project is for you.
– If you are a shop teacher and are looking to get the kids excited about class, this is the project for you. I guarantee they will be early for class on this project.
– And if you are a grandpa looking to keep your grand kids entertained when they come over for a visit, this is an excellent grandpa endering tool. Kids just love building stuff, and working on stuff. But they especially love being around grandpas who just love to tinker and play around. This will get the grand kids excited.
– This too is a great gift for that budding enthusiast. Wood working is so clean and forgiving that this wood go kart doesn't need to be absolutely square or perfect. Some good guidance by Dad and this go kart can be put together in a weekend or two!
So have at it and enjoy.
Because this is a printed version, the product is shipped out. Shipping for this package will take about 5 to 10 business days. We do accept checks and money orders, click here to obtain the mailing address.


*For continental United States shipping ONLY.  For shipping outside of the Continental United States please contact us for a custom payment link.