That's right!  Many of the vertical engines boast 10 to 12 horsepower and are just itching to be used on a go kart.
The trouble is that most look at a Vertical Engine and scratch their heads and say:
"Vertical Engines are not useable on Go Karts.  Most Lawn Mowers have vertical shafts and will not work on a go kart"
This is Not True!  Vertical Engines Can Be Used And Easily.
As you can see this a hot topic in the Go Kart Builders world.  Keeping that vertical engine in the corner of the shed is where most of us leave these doomed motors.  The Build a Go Kart 202 series goes into great details about how to set up your vertical engine to run a go kart.  You can also use this motor without spending alot of money (less than $50 on the drive sytem)
The go kart, that is in the plans too , can be fitted relatively easily with a vertical engine!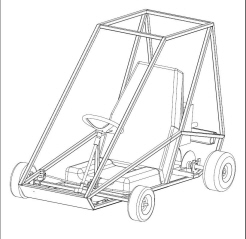 Gamblighini Phi Alpha 10 Fitted with a Vertical Engine
The Go Kart Building 202 Series is a comprehensive course on converting a vertical engine (a lawnmower engine) so that it can drive a go kart.  You will be amazed at how simple and easy this can be.
Take The Vertical Go Kart Engine Drive Line Course
I highly recommend that you access the following Course to get the run down on the step by step conversion of your Lawn Mower to a  Go Kart!
"Go Kart Building 202"; was an excellent manual.I had a vertical engine that was sitting next along one of the walls of my shop that I thought I was never going to be able to use.
Thanks to your instructions on how to make it work, I now have drawn up plans for a new go kart that will have 15hp.
Thank you
Sean Braswell
Vertical Go Kart Engine Course
Building a Go Kart 202 : Convert That ill-fated Vertical Engine
(The One Everyone Is Telling You It Is Not Possible, Or Will Cost Too Much Money)
Into A Monster Machine for Under $50!
Other Courses That Compliment The Vertical Engine Course
I also would recommend that you also take the Building a Go Kart 201 (Drive Systems)course so that you have a better handle on drive systems and the proper set up.  If you have any reservations about calculating the correct drive system, this course makes it easy to understand, and able to set up your system correctly the first time!
I want to emphasize that converting a Lawnmower Engine (Vertical Engine) to run a go kart is not difficult.  It does not require that you flip the engine on its side, and do extensive modifications.
It however, does take some thought, and the courses help you get the design right.  Take advantage of these courses while they last.
---
Vertical Engined Lawn Mower To Go Kart Video
This summer, we will be converting this riding lawnmower into a gokart.  A video will be available after the whole go kart is complete.  Get a hold of the Build a Go Kart 202 series and see how we do it!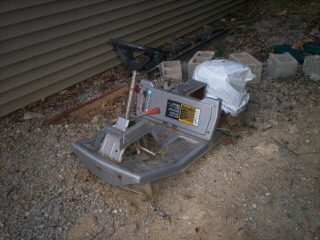 Related Articles You Will Find Helpful