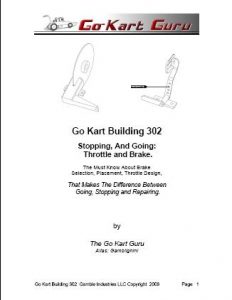 The sun came up clear and bright that morning. The young lad jumped out of bed and could scarcely control himself as he threw on some blue jeans, and a tee-shirt.He put on his driving gloves, boots and helmut. He then ran outside and flung open the garage door revealing the just finished go kart awaiting trial start up.
He had worked so hard the night before, up till midnight with the bug zapper making a loud clatter in the background admist the grinding and hammering noises. But he finished it, or so he thought, at 12:03 pm.
He had spent the whole night fussing and rolling in his bed anxious for the morning light to try out this mechanical miracle in the fresh spring air.
Having thrown the go kart together over the past three days, working well into the night each day, finally, the go kart appeared to be ready.
He gave the engine a pull with a steady, yank, yank.  But no sputter.  Oh, that's right, the shut off switch was hooked up backwards!  He promptly fixed the shut off switch.  Gave it another couple yanks, a choke adjustment and finally a chug, chug, sputter, sputter and she was up and running like a champ.
Having spent the night working on the gokart, no seat was made yet, so a make shift boards were thrown in place for seat and back.  Having spent the night again in a hurried panick to get the go kart running, he used a peace of fishing line to hook to the throttle and yanked when he wanted more power.  And away he went.
Faster, faster, faster he went down the driveway.  Suddenly the driveway was ending, ending quickly, and wait…no brakes, and the throttle was stuck wide open!
Now what?  The neighbors tree, the neighbors fence, the neighbors bush, what will it be?  Unfortunate for the bush it was ripped clearout of its roots, the go kart, well, it needed some looking at…..Needless to say…skipping some important parts proved to be more work in the end that was worth it all along.
This is a true short story (partly embellished with bushes, but high grass is about the same).  A true story about a foolish boy (who actually was a man of 28) being in too much of a hurry to address the vitals: throttle and brakes.
This course is about throttle and brakes, how to hook them up, what optimum designs are most forgiving and give you more options.
This may sound like rhetoric "more options" but you will see what I mean when we dive into the material.
Purchase Go Kart Building 302
For $7.99