Convert That Lawn Mower Engine To a Go Kart
With No Strange Mountings or Internal Engine Modifications Required!
The vertical engine has gotten a bad wrap these days because of its "supposedly" unfriendly geometry.  Being vertical, the drive shaft obviously sticks down and is not the easiest to convert to be a horizontal engine.Most vertical engines get  abandoned.  They get put  aside because they are  consdered "not as valuable" as their horizontal brothers.  The vertical engine is relegated as the "ugly duckling" of the engine world, when it comes to go karts.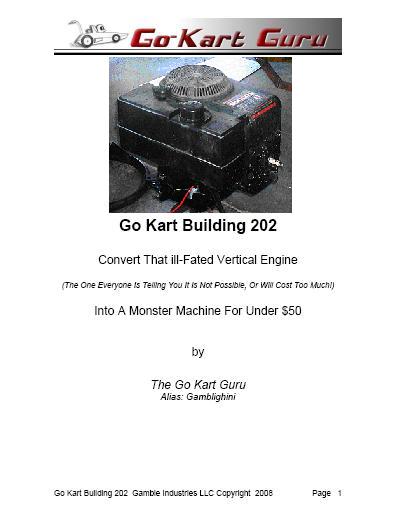 And that is not all…
We Are Stuffing These Two Extra Books in for Free!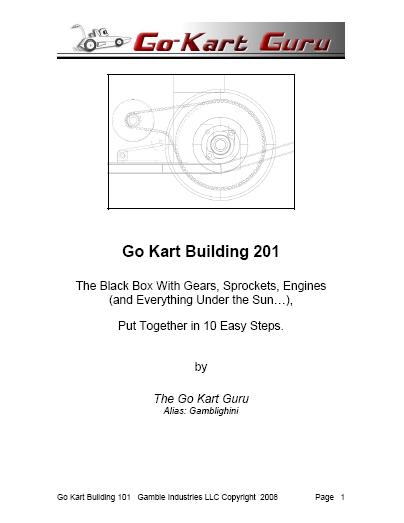 Go Kart Building 201
Go Kart Drives Basics
(Shows how to calculate and design a drive system)
FOR FREE!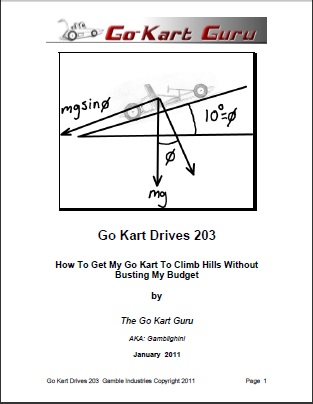 Go Kart Building 203
The Next Step In Drive System Design:
Making a smoke proof drive line
(Includes graphs and programs!)
FOR FREE!
All For One Low Price!
This course will show you how to use a Vertical Engine just the way it is without changing the engine at all.  You will also see that to adapt this engine to run a go kart can be done for under $50.
That seems incredible!  
I am sure you and many go karters out there are chomping at the bit to get their Vertical Engine, that came off of some riding lawnmower put to good use.  We will show you how to do it !
These manuals are packed with over 60 pages of conversion and drive line secrets that use simple, straight forward geometry and readily available components to get that power from the engine to the wheels without smoking the clutch.
You will not have to worry about components burning out, or an un-reliable, quirky drive system.
This 3 E-book Bundle Course is the must have manual for anyone who is using a vertical lawnmower engine and they want to use it on their go kart.
Download this Pdf today!
Dear Go Kart Guru,"Go Kart Building 202″ was an excellent manual.
I had a vertical engine that was sitting next along one of the walls of my shop that I thought I was never going to be able to use.
Thanks to your instructions on how to make it work, I now have drawn up plans for a new go kart that will have 15hp.
Thank you
Sean Braswell
Purchase Go Kart Building 202
Vertical Engine Drives
For $15.99*
+ Go Kart Building 201 and Go Kart Building 203 Free!

Other Articles on Vertical Engine Drives: