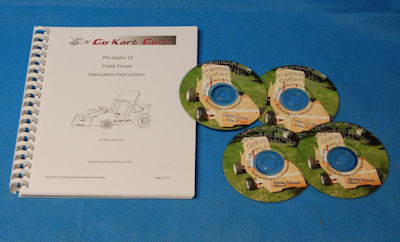 Are you looking for a go kart, one that can turn people heads, corner like a Porsche, and tear through turf and pavement like it was a professional X-Games speedster?   Are you looking for a go kart that is low cost and is able to be made with every day tools, and not require extensive metal fabrication?
Are you also tired of reading, and really don't have time for reading but just want someone to show you how to put together an awesome go kart in step by step fashion?
Then the Caleb Coupe Wood Go Kart video is for you. This go kart is unlike any other.  It has a low center of gravity, 50/50 weight distribution, Ackerman steering, disc brakes, live axle and optimized drive train for climbing hills, bulling through turf, and awesome acceleration.  This machine also equipped with safety features such as a roll bar and seat belt system.
This go kart is made fully of wood.  Accept for select components such as the steering shaft, and the rear axel, this go kart is made fully of wood.  This go kart utilizes monocoque plywood construction for maximized strength and minimized weight
This video series is composed of 3 1/2 hours of wood go kart fabrication instructions.  In this four DVD set you will see the Go Kart Guru fabricating from scratch the wooden go kart.  Also the Go Kart Guru will give you insights into what obstacles to avoid and what tools to use.
Included with this Go Kart Video are the go kart plans which consist of over 100 pages of extensive prints and over 36 pages worth of instructions.  Also included in this set are the 11 e-books that are provided in the current Go Kart Building Bundle.  These books show you how to maximize your go kart design addressing the drive line, steering system, pedal systems, frame design, 50/50 weight distribution and much more.
This package is ideal for the DIY enthusiast who doesn't have a lot of metal fabrication tools, but plenty of wood working tools.  Believe you me, we put the wood working tools through their paces as we construct this go kart from wood!
Here is what you will get:
Four DVD's of over 3 1/2 hours of instructional material. 40 Plus different instructional videos on how to build the Caleb Coupe Wood Go Kart complete
1 Printed Caleb Coupe Step by Step Instructions with over 100 pages of part prints and assembly guidelines.
BONUS PRODUCT: One (1) CD of the MEGA Bundle included as a bonus product! (Over 11 e-books in CD form that can be printed out if you wish. Well over 1000 pages worth of gokart building information with go kart plans included. A super power house of materials on our bonus CD!)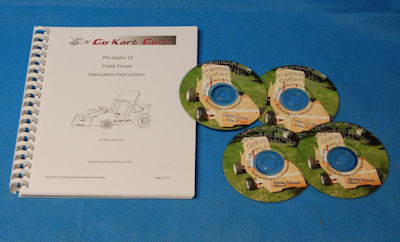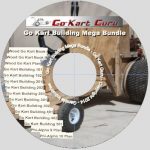 Bonus Product MEGA Bundle CD: 11 Go Kart Building Ebooks; 2 Sets of Go Kart Plans!
I would like to purchase the Caleb Coupe Wood Go Kart Video Bundle with Bonus Mega Bundle CD included for $85.95 $65.95
+shipping and handling (US only – contact for outside of US)
*By purchasing Go-Kart Guru products, you are
in agreement with the copyright and licensing agreement
of the Go Kart Guru Website and are 18 years old or older