Front End Air Foil, Bumper Guard
Now you can add a splash of class to your go kart by adding this front end bumper guard.  Not only does it protect your go karts front end, it also makes it look ultra sporty.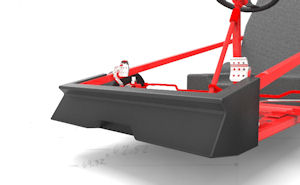 First off, this air dam is made out of high quality plastic that is durable in all weather conditions.  It also has UV inhibitors so it will not fade or crack.
The air dam is fitted over the front of the frame and then screwed into place onto the frame with stainless tech screws.
Because the air dam is plastic, it can be cut out to accommodate lights if you so wish.
The introductory price for the front air dam is $35 plus shipping and handling.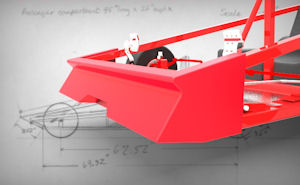 Our standard colors are black,  and red.
If you would like a custom color, you can contact us and we will work with you to get your custom color.  An extra $10 surcharge will be tacked onto the $35 standard  colors.
Limited Warranty
There is a limited warranty on the air dams.  If you install the air dam, the warranty is void, however, if you decide you do not like the color and would like to return it, you have 30 days from your purchase date to return the air dam.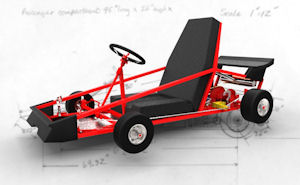 I am really interested in this product please put me on the waiting list! Complete the following survey to sign up for the Air Dam Discount.
Go To our contact page and notify us of your interest.