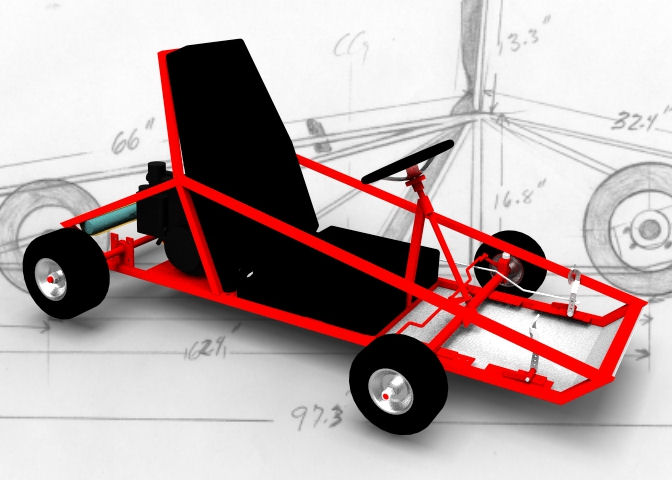 The Phi Alpha 9 is a fantastic all around DIY go kart! It has tons of great features that make this one of the coolest, most durable, lowest maintenance and safest go karts available as a do it yourself plan.
Low Center of Gravity
50/50 Weight Distribution
Chain Tensioner Standard
Disc Brake System Standard
Wide Variety of Engine Sizes
Vertical Engine Drive System Available
Standard Roll Cage
The Phi Alpha 9 has a low center of gravity which is key for safe cornering. It has also has an excellent 50/50 weight distribution making it have superb handling.  The Phi Alpha 9 also features a chain tensioner which makes chain removal and placement an easy and quick job versus the standard grease filled hours of frustration. It also features a low maintenance no-fade disk brake system which is easy and quick to install and hookup to the brake pedal.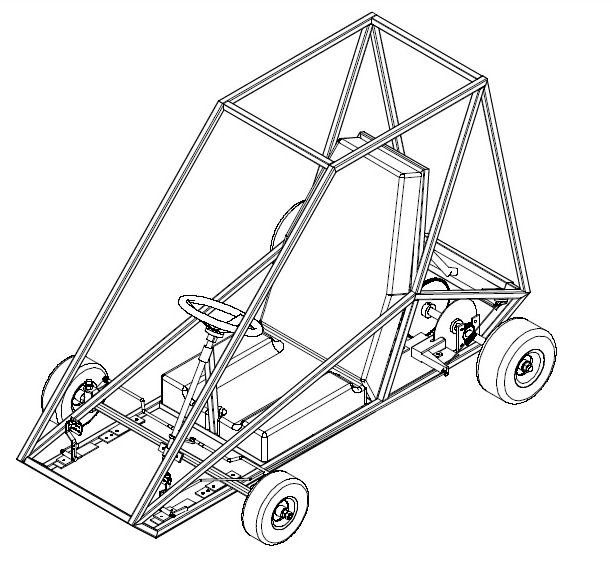 The Phi Alpha 9 also features can accommodate a wide variety of engine sizes ranging from 3 to 12 hp giving it lots of speed and fun! Additionally, this go kart frame design can be hooked up to the vertical engine drive system (as all our go kart plans can use this system).
It features an optional roll cage which makes it even safer, pair that with durable steel tubing for a frame and you have a super cool and safe go kart!
Go Kart Plans that are easy to use! The last thing you want is to get a pile of prints that are hard to figure out. Not so with these go kart plans.
The detail in the go kart print plans includes:
Fixtures
Part Prints
Steering Layouts
Seat Prints
Dual Exhaust Muffler Prints
Chain Tensioner Prints
And Much, Much More
Incredibly simple Step by step Building Instructions
Ingeniously constructed and low cost (less than $30) weld fixture designs
Detailed prints on ALL parts, no guess work here!
Adjustable Steering and Pedal System to accommodate differing height drivers.
Hyper Comfortable Seat design, which includes patterns for cloth and wood backing.
Ultra-Performance and Head-Turning Dual Exhaust System Design prints.
Ultimate Automatic Chain Tensioner design prints. Remove the engine in minutes. Never worry about the chain coming off again!
If you are not completely satisfied with the plans, the content or the design, you will get you money back, no questions asked!
Get all this for $16.99 (a $30.00 value!)
I  want to purchase the Phi-Alpha 9
go kart plans for $16.99*