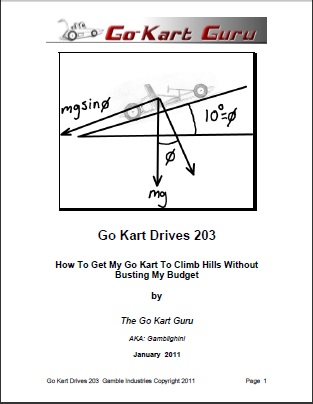 How to Get My Go Kart To Climb Hills Without Busting My Budget?
I get asked questions all the time on how to get my go kart to stop smoking the clutch, especially when I am trying to climb hills.
To this point in our Go Kart Guru series we have shown how to do calculations, and how to figure out how well you should expect your go kart go perform, but we have not dived into the how to predict when my clutch will smoke and how to get the most bang for more buck when it comes to drive systems.
The crème de' le' crème drive system is the variable clutch, or the Comet Style Clutch.  But that invariably costs a lot of money, and it too has its own set of troubles.
This drive book is about matching up your go kart drive system to your engine.  In order to save money, the best way is to use the simple clutch to rear drive system.  Unfortunately this drive system is not going to work for every gokart, in fact if not matched up properly it will not work for a whole host of go karts.
The best way is to match up your horsepower to what your go kart is going to dish out to the drive system.  The most severe of these "dish out situations" is the hill.  The hill is guaranteed to cause major drive train strain and smoking clutches are just waiting to happen.
In this book, we go head on to the "hill of consternation" and show you how to calculate the optimum simple drive system that will match your go kart.  And no you will not end up spending a lot of money on a variable speed clutch, you can use a simple drive system that will cause your go kart to move with snappy acceleration.  You may not end up going 50 mph, but at least you can motor around with some decent zip.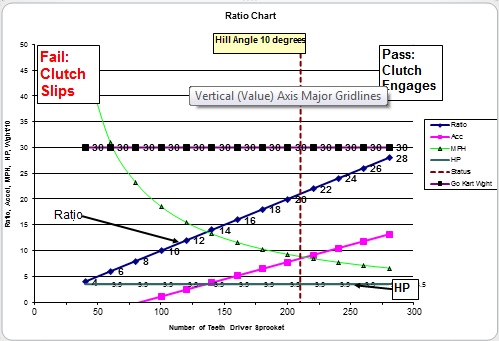 This book shows you how to do those calculations, but does not just leave you with a bunch of formulas, but makes the overall drive train performance understandable by providing a graph method that shows the lows and the highs of the go kart drive system.  There are over 30 graphs that are designed to help you in your drive line system design.
And that is not it, this coarse also provides a program that will do all the work for you.  This program will tell you if you go kart is going to climb hills or not.  Whether your clutch is going to smoke or not.  Will tell you if you need a jack shaft system or not.  The program is a tool that compliments the graphs in that it will tell you pass or fail, but the graphs will tell you where you stand  and how much wiggle room you have.
So all in all, this book is an indespensible drive line diagnostic and design tool for any homebuilt go kart.  It also will prove to be a favorite with go kart racers because it can help them predict acceleration, top end and clutch status…all important items when dealing with on and off the gas pedal driving and grueling driving conditions.



The go kart building 203 coarse is designed to be the next step in drive line evaluation.  First, the Go Kart Building 201 coarse was about understanding and doing some prelimnary performance calculations for a go kart.  If you understand drive lines you can do some hit or miss drive line evaluation using the formulas and the program that is provide on the web page.  The go kart building 201 coarse was designed to familiarize the user with basic concepts of drive line layout such as torque, horsepower, simple drive line layouts, jackshaft calculations, and more.  It was designed as back ground that is much needed for understanding this 203 book.
The Go Kart Building 202 coarse is designed to build on the 201 coarse but in a different venue, the vertical engine drive.  In this book the rock solid drive line is set up for you.  The vertical engine drive has its own set of problems and these are discussed in detail in the 202 book, such as smoking clutch issues if not set up properly.
The 203 is the next step in go kart calculations and is designed to get the optimum drive line for great acceleration and for climbing hills.
You can either buy this book by itself for $14.99 or you can buy the bundle for $15.99.
What is included in the book package for $14.99 is:
– Go Kart Building 203 E-Book (Downloadable book)
– Climbing Hills Drive Line Graphs
– Flat Surface Drive Line Graphs
– Go Kart Climbing Hills Program
You must be eighteen (18) years  or over to purchase this product from the GoKartGuru.com
I would like to purchase
this Go Kart Drive System Optimization E-Book Package for $14.99
If you want to UPGRADE and $AVE consider the following Drive bundle:
What is included in the bundle  for $15.99
 Go Kart Building 201 E-Book {Go Kart Drive Systems: How Do I Design One?}
 Go Kart Building 202 E- Book
{Vertical Engine Drives: Lawnmower Engine To Go Kart}
 Go Kart Building 203 E-Book {Drive System Optimization: How Do I Get My Clutch To Stop Smoking Without Busting My Budget?}
– Climbing Hills Drive Line Graphs
– Flat Surface Drive Line Graphs
– Go Kart Climbing Hills Program
| | |
| --- | --- |
| I would like to purchase the Go Kart Drive Line  E-Book  Bundle for $15.99 (over a  $20+  savings) |   |