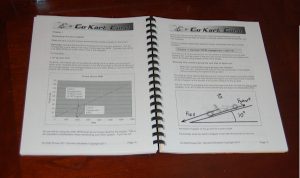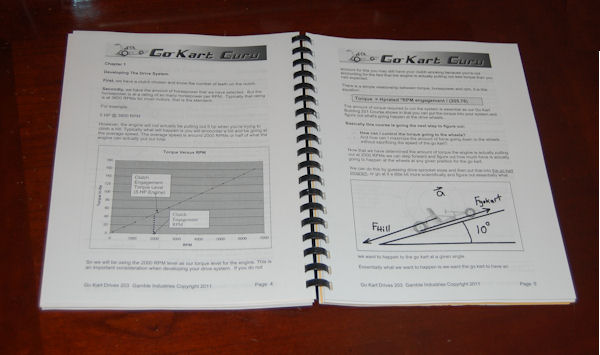 So many people are looking to make a go-kart by themselves and save money.  They also are looking for competent answers that they can actually build with.  This book is just that, a compilation of technical answers, calculations, suppliers, "How-To" tips and so much more.
When I put this book together I wanted to be able to help people start from scratch and build their own gokart, one that they would be proud of.
Additionally, many of you have been asking for a printed version of the Go Kart Building Bundle, and it is finally here.  In professional form the Bundle is completely printed and includes all the books plus the plans all in one large book.
The book covers all the information that you need to make your own go kart.  It basically is all the e-books printed up and bound in one large book. Which includes the following:
This book will show you how to: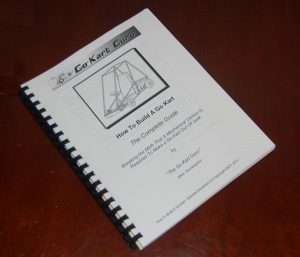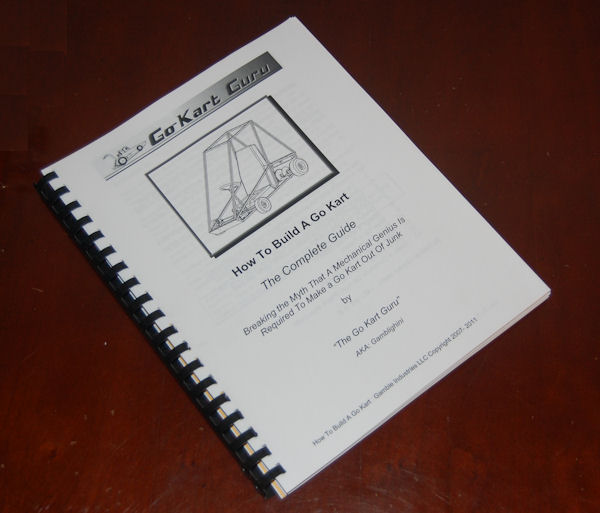 1. Design a Go Kart
2. Calculate or Measure the Center of Gravity Introduction
3. Design the Frame Not To Break (Stress Calculations)
4. Drive Train Calculations (Too Much or Too Little Power?)
5. Use a Lawn Mower Engine To Power Your Go Kart
6. Design a Brake System
7. Design a Throttle (Gas Pedal System)
8. Design a Steering System
9. Weld Up a Frame
10. Make Comfortable Seat
11. Make A Cool Exhaust System
12. Super Charge Your Engine
13. Make a Complete Go Kart (Plans Included!)
Here are the books printed out in one large 300 plus page volume:
Go Kart Building 101 – Where Do I Start?

One of the biggest pitfalls people fall into is not considering the 10 Thing about gokarts prior to building, or even buying a go kart. These 10 things will make this project either worth while, or a waste of time!

Go Kart Building 102 – How To Spend Only $200 (if that) on a Go Kart

How do you get all that stuff together and only spend $200? Go Kart Building 102 shows you how to do it, and where to buy it!

Go Kart Building 201- Go Kart Drive Systems Design and Layouts

You may get that go kart put together, but don't have a clue as to how to connect the engine up and get it to not burn up a clutch or belt. Go Kart Building 201 shows you how to layout your drive system, what ideal ratios you should be using and what clutch system best suites your cart.

Go Kart Building 202 – Vertical Engine Drives (Running the Engine Vertical)

Lawn Mower Go Kart

Everyone has an old rider lawn mower sitting around, but because the engine is vertical, they don't have a clue as to how to make it work on a gokart. This is by far the best selling product that the Go Kart Guru has, because NOBODY shows you how to do it, accept the Go Kart Guru!

Go Kart Building 203 – How To Get My Go Kart To Climb Hills Without Busting My Budget

Clutches smoking are the biggest headache that most go karters have. This course breaks the hill berrier and uses a whole arsenal of graphs and programs to get the job done. By far the most extensive work on drive systems so far!

Go Kart Building 301- Go Kart Frame Design and Stress Calculations

The Go Kart Frame design is so critical to go kart handling and performance. It is not just slapping together a couple of tubes and angles and "walla" a go kart. It is a little bit more involved than that. This course shows you how to design the frame on your go kart so it will corner like a porche. It even shows you how to do stress calculations so that the frame does not fall apart!

Go Kart Building 302- Go Kart Throttle and Brake Systems Layouts

Throttle and Brakes systems usually are the last things to be addressed in go kart designs and that is not a good thing. Sticking throttles, and poor brake systems are the last thing you want to deal with. This book shows you how to put together simple though easy to work-on throttle, and brake systems.

Go Kart Building 401- Go Kart Frame Fabrication and Fixturing

The actual making of a go kart does take some tricks. This book covers 5 major areas and that are very important for frame fabrication. It shows you how to make a go kart frame, how to use the tools (special tricks for repeatable reliable frame fab), Pitfalls in designs, how to get past them: which include drive line, steering and frame strength.

Go Kart Building 402- Go Kart Steering Systems

Steering Systems are usually cobbled together. Not a whole bunch of thought is put into them, and so the go kart just doesn't corner, it goes strait. This book shows how to optimize your steering system.

Go Kart Building 501- Go Kart Seat Design and Fabric

Seats are usually the last thing thought about on the go kart. Make shift seats are cobbled together. This e-book shows how to make your own go kart seat, one that will be very comfortable, but not cost an arm and a leg.
Bonus Products
Go Kart Plans

Why spend all your time working on a frame design, when a head turning go kart is all designed up for you? The Go Kart Frame Plans shows how to build the frame down to the last detail. It even shows you how to make a dual exhaust like the one shown on the video!

SuperCharged Go Kart

The second bonus product is the superchargers manual. Every one wants more power. This shows how to hook up a supercharger and the secrets to actually having a system work!
Again, this is a fully printed version of the Go Kart Building Bundle.  It comes in One Large Volume and includes the Go Kart Plans and the Charts that come with the Go Kart Building 203 book (the one that shows you how to make a smoke proof drive line.)
I would Like to Purchase The Printed Version of The Go Kart Building Bundle For $54.99+

Shipping

*

 
*For continental United States shipping ONLY.  For shipping outside of the Continental United States please contact us for a custom payment link.
You maybe wondering why the price is so high for this book compared to the e-book version.  The electronic (or e-book) versions are much, much cheaper because there are not any printing costs.  With the advent of ipods, nooks, kindles, ipads and so forth printing is becoming a thing of the past.  However, we do offer this printed version for those who do not want to eat up their printers with 300 plus pages of printed pages.