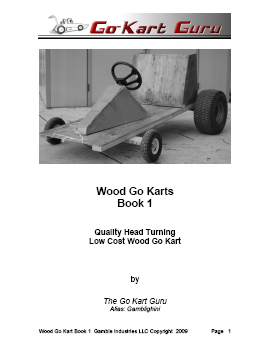 The wood go kart….
As a young boy my aspirations to operate an object that could propel me around was just intoxicating.  I started riding my bike at 5 years old.  Changed my first tire at 6 years old.  Made my first go kart out of wood at age 10.  Made my first motorized wood go kart at 14.  I had that constant thirst for motion, the go kart was the platform.
A wood go kart is very cost effective and can be made in an afternoon.
In this manual we show three different wood go karts that have been made from basic materials ranging from two by fours, plywood, bolts, rope, angle iron, steel rod, and left over garden tractor tires.
The go karts start out as gravity powered, but can be easily upgraded to gasoline powered.
For many people a welder and steel tubing is not readily available, but wood is.   This manual shows how you can put together a go kart for at least $20 to $50 no problem.
There are two books in this series: The Wood Go Kart and the Gas Engined Wood Go Kart.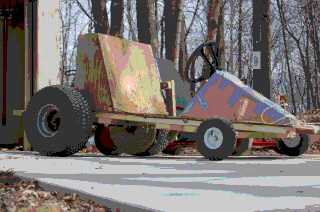 In this book we show you what is involved to make a wood go kart.  This includes frame layout, steering layout, brake setup and seat layout, along with other miscellaneous information.
The second book shows how to set up the drive system so that a gas engine can be mounted to the go kart.  This includes engine layout, pulley sizes, belt tensioner system, throttle linkage.
The information given, however, in this book is more than sufficient for you to get building that wood go kart today.
If you would like to purchase this book it comes only with the Wood Go Kart Bundle.  The reason for this is that the Book I  invariably is not enough for most customers and they desire to make the full blown engine powered go kart.  As a result the complexities of the drive line and so forth make the Wood Go Kart Bundle a necessity if the project is to be successful.