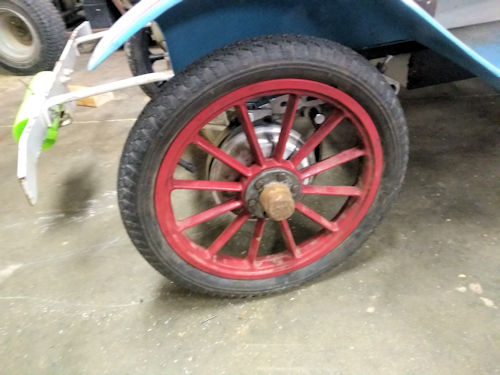 Model – T Go-Kart Brake System
Finally, a brake system for the Model – T Go-Kart that is easy to install and adjust.  This brake system is designed to be a bolt in system, no grinding, no welding.  All that is required is to bolt on the custom brake drum to the existing Model – T Go Kart wheel, mount the brake band retention boss, remove the existing rubbing brake angle bar, replace with custom crank arm, and then insert the custom band link.
After that make a few adjustments and the system is good to go.  Installs in about 20 minutes.
If you would like to purchase the system, be sure to specifiy which side you want to add the brake system too.
Note: When the drivers side brake is added, it will  lock up the drive axel and stop the engine (if the drive is engaged).  The drive layout for the Model-T gokart has the passenger side wheel free rotating so that the go kart does not require a differential.
| | |
| --- | --- |
| Brake Drum Bolts on to rim easily | Brake system has a clean appearance |
| Overall system fits into go kart easily | Brake System Layout |
| Brake Crank adapts to existing brake shaft | Underneath view showing brake system |
| Top view of brake system on test go kart | Rear View of Band Brake System |
Check out the installation video to see how simple it is.