The original McDonough Model T go kart head lights, or light cans, had a special design with crimped over radial markings which gave it a distinctive look.  The can material was steel and would over time rust and tear, especially with the bumps and rough riding that the go karts were likely to encounter.
Because McDonough and subsequently various other companies went out of business, the ability to find lights has been nigh to impossible.  People have come up with various solutions which include candy jars to essentially glorified caviar cans.
Here at the Go Kart Guru we offer essentially three different styles:
Cast Aluminum
Cast Brass
Classic Tin Plated Steel Can
Below is an illustration of the two types that we offer, the third (the brass not shown), however the third in the picture is the original light can from a 1950's model T.
On the Left is the original, the center is the Zinc Plated Steel Can, and on the far right is our durable cast aluminum light can.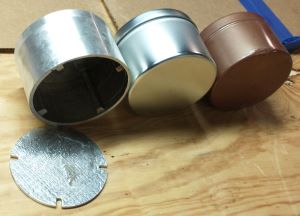 Here is the back side showing the differences between the three cans.
Below are the links to purchase the different light cans:
Cast Aluminum
We introduced this light can when there were not any alternatives that were durable.  This light can is so durable that you could run it over with a truck and it will not crack or break.  That being said, it is about 290 grams or 10 oz (or just under a pound).  We take pride in the surface finish and detail.  We have many happy customers that use these lights on their show carts.
0,Model T Shriner Kart Replacement Light
Cast Brass
This is our latest addition, the Brass Light can.  It is particularly sought after by those who own Model T Fire trucks.  We also offer the brass steering wheel which is a perfect complement to the lights making the go kart a real classic.
0,Brass Model T Kart Light Can
Classic Tin Plated Steel Light Can
We are proud to offer a light can that resembles the original 1950's go kart.  This can is the most economical version that we have.  Some work will be required to get the can to mount to the light bar, and to keep the can together.  We suggest using JB Weld, or simple rivets to keep the lid in position.  Be sure to take advantage of the multiple purchase options (ie 1 piece, 2 piece, 4 piece….stock up today!)
Go Back to Model T Parts Store