Do you want to see the wood go kart being put together, step by step?
Now finally there is a step by step video showing you how to make a go kart out of wood.  You may be familiar and appreciated the books and videos that the Go Kart Guru has put together.  With all the detailed information in the books and videos you have become acquainted with, now its time to see a whole wood go kart being put together from scratch.
It's been a year in the making and it finally is finished.  Over an hours worth of video material demonstrating the fabrication of a Wood Go Kart from start to finish it includes: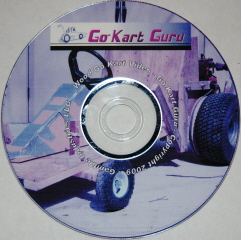 – Go Kart Frame
– Go Kart Axel System
– Go Kart Seat
– Go Kart Brakes
– Go Kart Steering
– Go Kart Drive System
– Go Kart Throttle System
– And much, much more….
The video shows details that most won't bother with. Details like "how to make a wood pulley" and "how to build a working brake system", "how to make a home made compass" and much more.  The little tricks that help make this go kart worth while are all discussed and demonstrated in this video.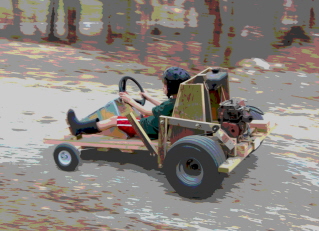 There are over 24 video segments each discussing and demonstrating something vital about the go kart project.
This is not your typical hand drawn video that you may have seen the Go Kart Guru do, this is actually the Go Kart Guru working with his kids to make the wood go kart in a series of weekends.  This is a perfect demonstration video for father and son projects.
Remember, the Go Kart Guru is working with junk, he doesn't have the advantage of lots of materials, just junk and the know-how to put it together.  The Go Kart Guru is coming at it fresh too, so you may be amazed at some of the things he comes up with.  A wood pulley, who would of thunk it?!   Additionally, the video is complete with commentary as the go kart is being built.
This video is a great companion work with the Wood Go Kart Bundle  (which comes in a seperate CD with this special) and does assume that you have the Wood Go Kart Bundle in hand while watching this video.
If you would like to upgrade and actually buy the Wood Go Kart Bundle in printed form and get the video be sure to take advantage of that opportunity while it lasts.  We have limited quantities of printed manuals so order while we have them in stock.  Will ship the next business day.
I would like to purchase the
Wood Go Kart Video + Wood Go Kart Bundle On CD
for $12.99